What to Expect at Harbourfront Chiropractic
Welcome to our people-centered practice. On your first visit to our office an initial consultation and spinal examination is conducted, and many patients receive their first adjustment on that day. How long you choose to benefit from chiropractic care is always up to you.
Your First Visit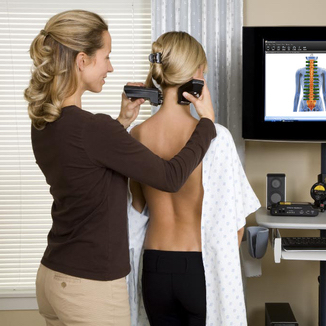 At your first visit, you will complete a health history questionnaire. If you have any previous MRI, x-ray or other test results, please bring them with you on your first visit. Throughout the initial part of your visit, pertinent information will be gathered about your problem, including your future goals and what you would like to receive from our care.
Following a focused spinal exam and blood pressure testing, an advanced nervous system evaluation be performed to measure the electrical activity of the muscles supporting your spine. Before any care is given, a clear, concise explanation of the cause of your problem as well as the recommended solution to correct it will be given.
Advanced Nervous System Evaluation
Harbourfront Chiropractic uses the latest technology available for evaluation of muscular and nervous system imbalance. A computerized evaluation is performed as part of every patient's examination to help determine how well the nervous system is functioning.
Surface Electromyography (sEMG)
The sEMG measures the quality, quantity, and symmetry of muscle tension and spasm by evaluating the electrical activity of muscles. Because nerves control your muscles, misalignments disturb overall nerve function, causing an abnormal amount of electrical current to flow to the musculature.
Honest and Direct Communication
Our office financial policy is simple, and is also explained so that there are never any surprises.
Please allow 1 hour and 15 minutes for the first visit, which includes time for an adjustment.
Regular Visits
A schedule of care will be recommended on the first visit, and on subsequent visits a specific protocol will be followed during each adjustment to determine how you are progressing. Progress examinations are given at regular intervals to ensure that your goals are being met.
If you have any questions about what to expect during your first visit, call us at (416) 260-0082.

New Patients | (416) 260-0082